Top Rated American Heart Association AHA BLS CPR Healthcare Provider Classes
Experience the most widely recognized, accredited, and employer-accepted CPR and First Aid training with CPR Certification Raleigh! Our CPR courses are 100% certified by the American Heart Association (AHA). We proudly provide expert preparation for Basic Life Support (BLS), Healthcare Provider Cardiopulmonary Resuscitation (CPR), and Automated External Defibrillator (AED), giving you everything you need for personal or professional CPR use. Sign up for a time that is convenient for you at our training site — or schedule your on-site CPR training for medium to large groups in Wake Forest, Holly Springs, Cary, Apex, Carrboro, and more!
American Heart Association AHA BLS CPR and AED Certification
BLS CPR & AED Classes
$59.95
CPR Certification Raleigh offers the most widely recognized, accredited, and employer-accepted level of CPR training at an affordable price. Our goal is to see EVERY person provided with this life-giving certification. Our Raleigh CPR classes are 100% licensed and approved by the American Heart Association (AHA). Our certified trainers cover Basic Life Support (BLS) for adults, children, and infants and Healthcare Provider CPR and AED use.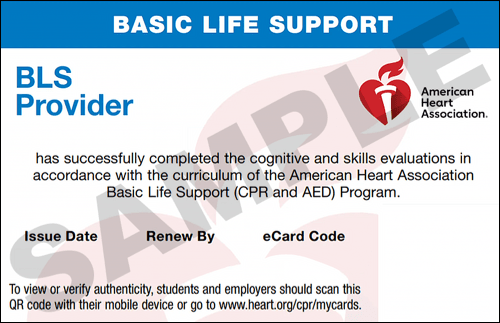 American Heart Association AHA BLS CPR and AED Certification & First Aid Certification
BLS CPR, AED + First Aid Classes
$79.95
CPR Certification Raleigh provides AHA Basic Life Support (BLS) and Healthcare Provider CPR/AED certification as well as our recommended First Aid certification. Our CPR courses are 100% certified by the American Heart Association (AHA). With a smaller class ratio and training multiple times throughout each week, you can get the best certification at an affordable price. Know what to do when it matters most with our world-class First Aid and CPR classes!

Natasha, Medical Assistant
""This was just the right environment to get recertified with BLS CPR. The instructor was amazing and brought the years of experience on the job to the classroom. I was very impressed with the level of knowledge that the instructor had. Learning was made interactive and fun, which was a lot better than feeling like a typical boring class. Highly recommended.""
Dahlia, Dentist
""Awesome experience! I've taken many BLS classes before and this is by far the best class ever. The course was great and I enjoyed the excellent teaching. I really learned the process well and definitely feel more confident. I'd surely recommend this location to anyone that is looking to get certified.""
Michael, Nurse
""Just had my BLS CPR and First Aid certification and it was so great. Got both certs knocked out in one day. The instructor made it fun and covered all the material in a clear and concise manner. If you still have questions afterwards, the company will continue to extend their support. The facility is nice, as well as easy to get in and out of. Strongly recommend signing up for this class!""
Raleigh's Best CPR Certification
Know CPR. Make a difference. Save a life.
Each year, thousands of people could be helped during accidents or heart events if more individuals obtained CPR and First Aid training. We take pride in offering a quality experience at the most competitive rates, leaving you feeling confident in and satisfied with the education you've received.
Whether you're a good samaritan or are fulfilling a job requirement, we're so glad that you're considering becoming CPR and FIRST AID certified or recertified!
What is CPR?
Cardiopulmonary Resuscitation is a series of techniques used to revive a heartbeat during an emergency. One additional aspect of CPR is knowing how to use an AED machine, the follow-up procedure to performing CPR. These combined techniques continue to save lives each and every day!
What to Expect in Your CPR Course
In this class, you will learn how to —
Perform chest compressions
Provide mouth-to-mouth ventilation
Find the pulse
Restore regular breathing to the injured
We will ensure that when you leave our training, you are confident in using your abilities during any emergency involving an infant, child, or adult.
Finding a solid certified program that follows government regulations is so important to ensure that your employer will accept the certification. Your American Heart Association CPR and BLS certification card proves your training and satisfied employer requirements.
CPR Certification Raleigh fulfills employers and organizations requirements for —
Nurses, RNs, and CNAs
Hospitals
Nursing schools and All Other College Programs
Personal Training Facilities and Gyms
Construction Sites
Schools (Private and Public)
EMT/Paramedic Companies
Nonprofits like the Boy and Girl Scouts of America
Hospitality Industry
Firefighting and Other Municipalities
Daycare and Other Caretakers
Home Health Aides
Why Train With Us?
We provide the most recognized and accepted BLS Certification in the United States.
Our streamlined in-person courses, with smaller class sizes and a hands-on approach, focus on more one-on-one CPR and AED training.
AHA-certified BLS CPR cards and CPR Certification Raleigh First Aid cards are issued the same day.
Being CPR certified, you will be equipped for any emergency you may face!
FAQS
How much does it cost to become certified?
Our CPR class costs $59.95. Our First Aid + CPR class costs $79.95.
Both courses include all training elements, including your certification card. Be careful while exploring other "cheaper" options — they may have additional hidden fees later in the process.
When will my certification expire?
To keep your knowledge and abilities fresh, you must renew your CPR AED Certification and CPR Training every two years.
How can I renew my CPR Certification?
Simply sign up for another class on our website — all of our classes are designed for recertifications as well as for first-timers. It's that easy!
Can anyone take these courses?
Everyone is welcome to become CPR certified!
We have seen almost 30,000 students certified to date across the country! Anyone can take our courses, no matter their age or profession.